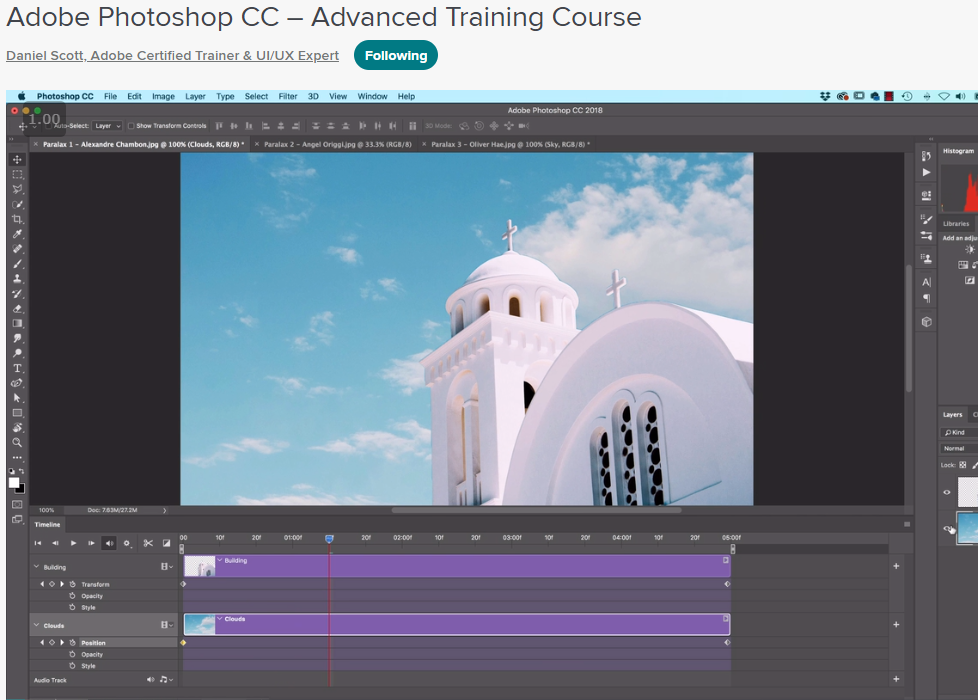 Skillshare Saturdays: Adobe Photoshop CC by Daniel Scott
Maybe this is the start of something useful? 🙂 I've been trying to put my Skillshare subscription to good use- aka actually watching and implementing techniques from all the classes I have bookmarked. So if Skillshare Saturday (sharing classes I have found particularly useful) is something you are into please let me know!
The class I want to share today is- Adobe Photoshop CC by Daniel Scott. (https://skl.sh/2RrnIsD– using this link will also give you 2 free months of Skillshare (and me a referral bonus-thanx!) if you don't already have an account and/ if you want to buy the course outright it's also available at Udemy here )
So about the course- it is a massive 13 hour course with over 100 videos. Now before you close your browser consider what that means. I really, really appreciate the fact that there are so many short, direct to the point videos explaining more advanced Photoshop techniques. Scott goes about it in a light hearted yet tip filled manner. He covers topics like different uses for Content Aware (fill, object removal, etc) creating parallax, creating cinemagraphs, correcting perspective and changing the perspective of objects, and a lot more. Each video ranges from around 5 minutes to a few more lengthy ones going for about 20 minutes. He includes a large number of resource files as well so that you can follow along in each video.
The course seems professionally filmed and edited and definitely one of the better classes I've found on Skillshare. I'm slowly making my way through the course- mainly skipping around to topics that are the most relevant to what I am doing at the moment or I want to learn.
Below I've copy-pasted a list of what you'll learn from his Udemy course page to give a better idea of just how informative the class is. Again check it out at Skillshare or Udemy.
What you'll learn
You will be able to earn more using these new Photoshop skills.

You will create multiple images for you to use in your Portfolio.

You will be able to add 'Advanced Photoshop User' to your CV.

You will create multiple social media graphics for Instagram, Facebook, Twitter, Pintrest & Youtube.

You will know how to mask people with one click.

You will create a fruit juice poster.

You will replace ugly skies with new blue skies.

You will create an image by combining 3 different images.

You will create amazingly realistic shadows.

You will build animations ready for social media.

You will make blurry images – sharp & focused.

You will master advanced curves & levels.

You will retouch perfect skin.

You will change colors of a flower & dress.

You will make images larger without distorting them.

You will automatically generate more grass & sky in an image.

You will remove unwanted objects from a photograph

You will edit video in Photoshop.

You will bend text to fit into a heart shape.

You will tread a vine through text.

You will manipulate cartoon characters into lots of different positions.

You will add color to images to create trendy new images styles.

You will add dust & splatters to an image & text for a grunge effect.

Create photographs with Instagram effects.

You will create a double exposure using a woman & a mountain scape.

You will transform 3 images into realistic water color images.

Build 2 images that look like they have a pixel explosion & decaying effect.

You will create a flyer using new & exciting fonts.

You will discover unknown fonts from your images using Photoshop

You will create flourished text so your text looks elegant.

You will build multiple advertising banners.

You will create professional retouching projects.

You will remove a nose ring from a model.

You will remove acne from a model.

Enhance eyes in your photographs.

Whiten teeth

Remove unwanted lights from a photograph

Completely remove people & objects from 6 images.

Remove bags from underneath eyes.

Enlarge eyes.

Add a smile to a model.

You will add depth to static photographs by animating using parallax so they feel like a real 3D movie.

Create repeating looping videos for social media using cinemagraphs in Photoshop

Create 3D text of your name.

Build a 3D logo.

Build mockups of your images in real life situations like on: computer screens, posters on walls, in magazines, billboards, mobile phones.

You'll learn the best selection and masking techniques

You'll know how to fix images that look 'hard to fix'

You'll master advanced levels and curves tricks, specifically with skin, adjusting and enhancing colors

You'll learn how to enlarge images without distortion and what to do when things go wrong

You'll know how to convincingly remove all kinds of objects from images

My favourite: You'll master the ability to distort, bend and reshape images

Lets look at how current trending styles are super easy to duplicate

You will become a type nerd. We'll use font pairing in Typekit. We'll also use Photoshop's ability to guess fonts

Your Artboard skills will be mastered

A master of retouching, you will become!

We'll also create awesome cinemagraphs, AKA: Moving pictures!

You'll learn lots about professional, reusable mockups, techniques and shortcuts!